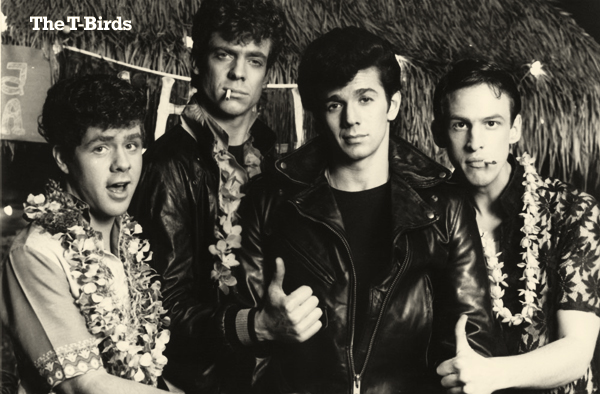 Johnny Nogerelli
Johnny is the leader of the T-Birds and one of the coolest cats at Rydell High. While he appears tough, and walks and talks like a T-Bird, Johnny wears his heart on his sleeve.
You see, the story is this, Johnny used to go with the leader of the  Pink Ladies, Stephanie Zinone. Over the summer, Stephanie has outgrew him and they have since broken up. However, Johnny's not over her and does everything in his power to try and woo Stephanie back into his arms.
Meanwhile, Paulette Rebchuck, also a Pink Lady, has taken a liking to Johnny and tries to impress him by emulating her idol, Marilyn Monroe, to try and win his love.  
Goose McKenzie
Mr. McKenzie is second in command to Johnny. He likes to mimic his fellow T-Bird and play it cool. A nice fellow, who has a rep to protect but also a comedic side. He only has eyes for Pink Lady, Rhonda Ritter.
Louis DiMucci
Louis DiMucci keeps trying to get to 3rd base with his Pink Lady Sharon Cooper, but never seems to make it around the field. He pleads with her in song to "do it for their country" but she see thinks he is referring to enlisting. Oh Louis. 
Davey Jaworski
Davey, the youngest  and littlest of the T-Birds, brings the fun and laughter. He is saved from the wrath of the Cycle Lords one night by a mysterious stranger, on a blazing motorcycle, outside the Bowl-a-Rama.
Be sure to check out The T-Birds performing Prowlin' from the motion picture, Grease 2.