Grease 2 Cut Scenes
Grease 2 had many scenes that were filmed but never made it to the final print. We were lucky enough to acquire some of the actual contact proof sheets directly from the Paramount Archives and capture a key scene that was eventually cut from the film. These photographs of Grease 2 Cut Scenes, are EXCLUSIVE to Grease2.net, please do not post on other websites. Thanks!
---

#1: Turn Back the Hands of Time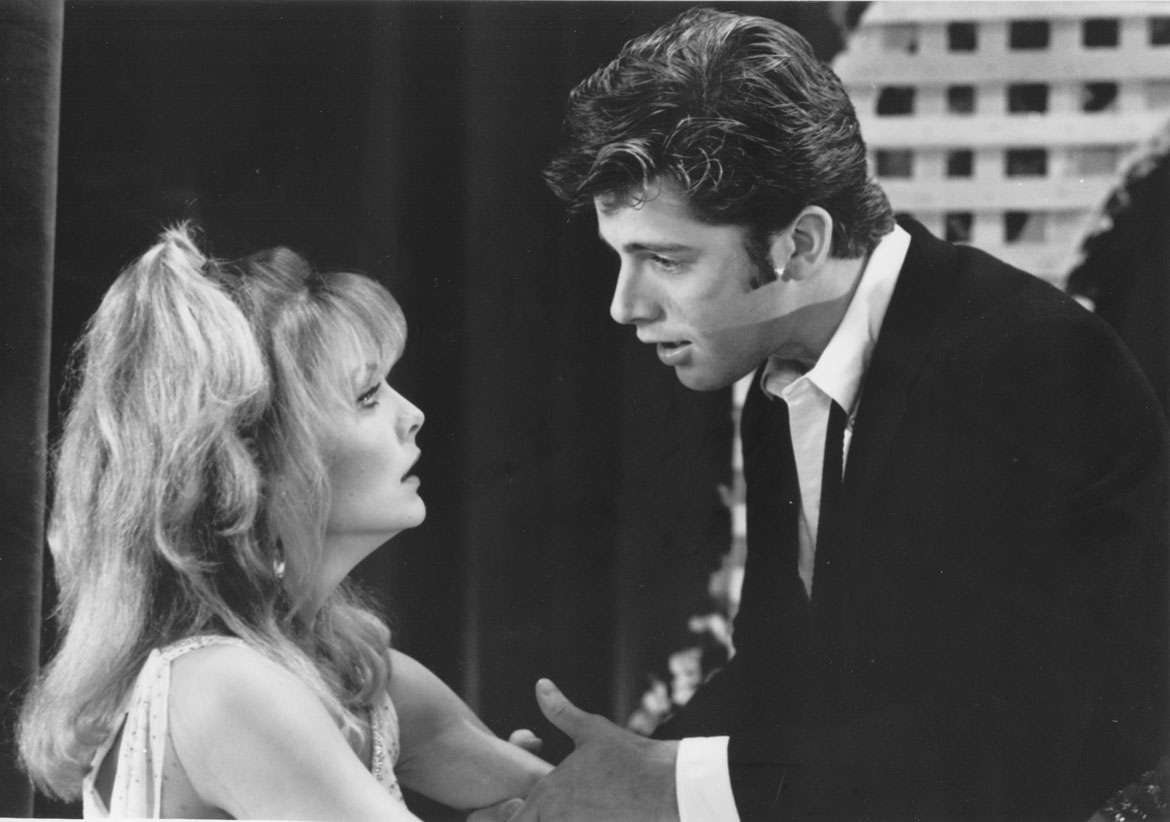 As far as cut scenes go, this one is very special because there is photographic proof. Here we see Michael is waking Stephanie from her "dream sequence." We assume this because of the Grease 2 novel storyline detail. The timeline is around the time of the Girl For All Seasons / (Love Will) Turn Back The Hands of Time segment of the film.

---
#2: "Howdy fellas, let's bowl some balls!"
Another cut scene took place in the home of Michael's Uncle played by non other than Tom Poston. Our guess is that Tom portrayed Mr. Olsson, otherwise known as Sandy's (Olivia Newton- John's) movie Father.
This scene depicted here, looks to have taken place the night of the Bowl-a-Rama scene as you can see what looks like the bowling guide Michael is carrying while on his way to the Bowl-a-Rama, curled up in his hands.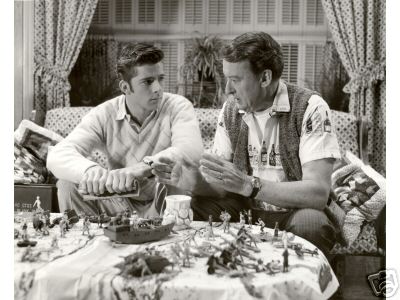 ---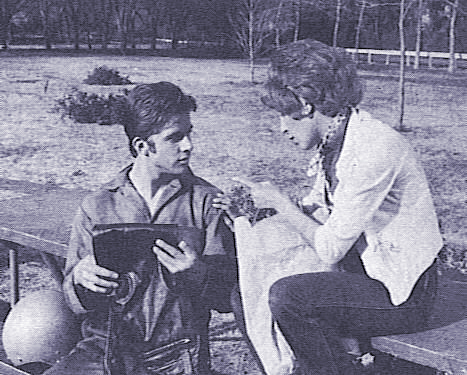 #3: Skin-tight leather
We know Frenchy found out Michael's secret: he was learning to ride a motorcycle to impress Stephanie Zinone. We also know this isn't the first time she visits him, but likely a subsequent visit as her clothing is different and she has a gift for him.
Here, we have a scene that features Frenchy bringing Michael a pair of leather pants. Michael wears these pants while dressed as the mysterious Lone Biker, to try and woo Stephanie, while at the Bowl-a-Rama.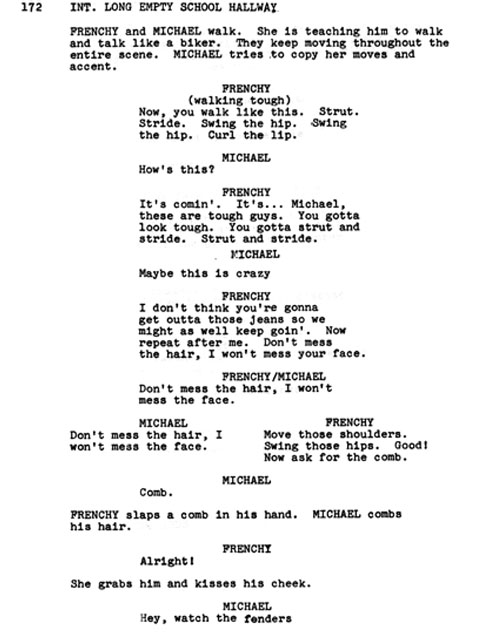 #4: "Don't mess the hair"
We follow the photo above with a page from the Grease 2 script. (Draft date unknown) In the scene, French is teaching Michael how to walk and talk tough, how to swagger and strut his stuff. She mentions his tight pants, we have to wonder if she is referring to the leather pants.
Frenchy then gives Michael a few lines to say, to mimic the T-Birds, and tells him to ask for a comb. Adorable scene, how we wish it would have made the cut.