Happy Grease 2 Day 2016!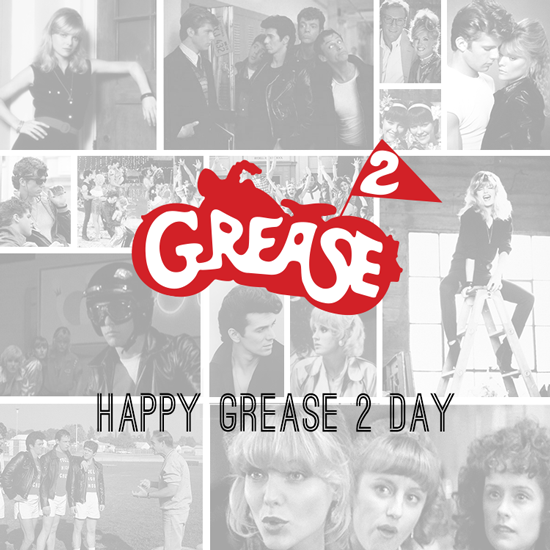 What a ride Greasers! Can you believe it was 34 years ago today that Grease 2 hit movie theaters, revved up our engines and "scored" its way into our hearts? It seems like just yesterday right? Time to celebrate and Happy Grease 2 Day to all!
The Music and Feeling Go On Forever!™ Grease is still the word!
---
Grease 2 is set in 1960, 2 years after the original Grease gang graduated from Rydell High School. This time it's a new crop of T-Birds and Pink Ladies and their friends who make up the Class of '61 at Rydell.
Directed by world-famous choreographer Patricia Birch, Grease 2 stars Maxwell Caulfield as Michael Carrington, Michelle Pfeiffer as Stephanie Zinone, Adrian Zmed as Johnny Nogerelli, Lorna Luft as Paulette Rebchuck, Christopher McDonald as Goose McKenzie, Peter Frechette as Louis DiMucci, Alison Price as Rhonda Ritter, Maureen Teefy as Sharon Cooper, Leif Green as Davey Jaworski and Pamela Segall Adlon as Dolores Rebchuck.
Also returning to the faculty are Eve Arnold as Principal McGee, Dody Goodman as Blanch Hodel, Sid Cesar as Coach Calhoon and joining them are newcomers Tab Hunter as Mr. Stuart and Connie Stevens as Ms. Mason.
Other cast members include Dennis C. Stewart as Leo Balmudo, leader of the Cycle Lords, rivals to The T-Birds. Liz and Jean Sagal who give the Pink Ladies a run for their money in the school's annual talent show. Didi Conn reprises her role as Pink Lady Frenchy and Eddie Deezen also returns as Eugene.
Hope you're all having a happy Grease 2 day!
---